Corti And Aprilia HSBK Leave Laguna With Tainted Hardware, Unnerved Spirits
07/14/2016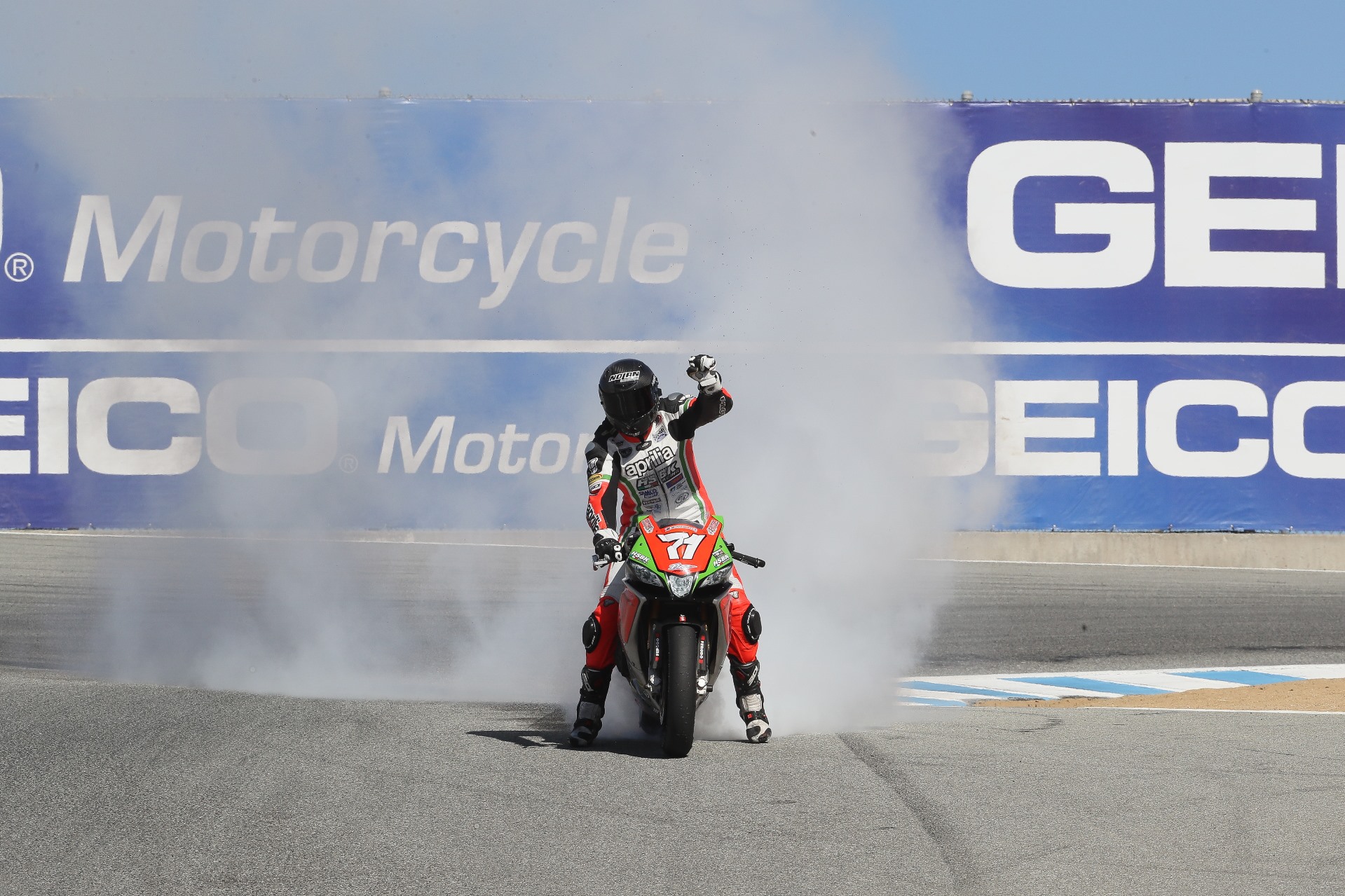 Houston, TX (July 14, 2016) – Round 8 of the MotoAmerica Superstock series was held last weekend at historic Laguna Seca circuit in Monterey, CA. Though one round remains Laguna proved to be the last bastion for Aprilia HSBK Racing and pilot Claudio Corti's championship efforts this season. In the end, seemingly ironic for both Italian brand and rider, it was a Machiavellian tale realized on the California coast.
Friday the team worked on bike set-up to increase performance and feel while Claudio Corti was reacquainted with the technical Laguna Seca track. Through three sessions, Corti was able to run a fast enough pace to head directly into Superpole 2. Here, Corti was able to pick up the pace, finishing 9th overall among Superbikes, and in 4th position among Superstock 1000 riders, ahead of series leader Josh Herrin.
In Race 1, Claudio got a great start off the line yet faced several challenges from an aggressive field in Superstock, exchanging positions nearly every lap, with half a dozen riders battling at times. As the laps ran down, everything was on the line as the riders charged through the corkscrew and into the final two turns, overtaking Herrin, with a first place finish for Eslick, Corti just behind in 2nd.
Due to a rider down, the finish came under review, and as race direction decided which yellow flags they could find footage on, Eslick and Corti were penalized not the single position they gained, but rather two, moving them into 3rd and 4th following the ruling.
Race 2, Aprilia HSBK Racing and championship challenger Corti had to make their own statement to the fans at Laguna. The race began with Corti immediately jumping toward the front of the pack, eventually finding himself on the heels of the Superbike riders, with an increasing gap on the Superstock riders. Midway through the race Corti began to lose distance, exchanging the lead a few times. Herrin, the series leader and almost guaranteed victor, had dropped back to eighth position, appearing to prefer a more leisurely victory outside the battle, as Corti went on to win Race 2 over 13 seconds ahead of the series champion.
Corti said, "In race one, I was penalized for passing on the yellow flag, it's a shame you know. I know it's for safety and I want to follow the FIM rules. However, I'm not the first person to pass on a yellow flag, but this is the first time Superstock riders have been penalized. Just puts a damper on things when it's not consistent. Race two the bike was working so well I was in the middle of the all the Yamahas and then after resting a bit for couple laps I started to put on the gap. It was really important for me to win a race at Laguna Seca. It's one of the most famous tracks with the most famous corner. I'm looking forward to the break and coming back and putting it all out on the track."

The series moves to New Jersey Motorsports Park September 9th through 11th, where Aprilia HSBK and Claudio Corti achieved the double double earlier in the year, first in Superstock 1000 both races, along with a third step on the Superbike podium in each race, besting all but two of those more developed machines.

HSBK Racing would like to thank Piaggio North America, Aprilia Racing, Houston Superbikes, Bel-Ray, K-Tech Suspension, Pilot Motorsports, Motion Pro, Portable Shade, EVOL Technology, Galfer USA, Ferodo Brake Pads, Capit, GB Racing, Full Spectrum, Sunstar, Zero Gravity, DNA Air Filters, RaceSeats, Samco Sport, DB Holders, BikesPlast, Austin Racing, Fast Frank Racing, Cox Racing, Sidi, Nolan Helmets, CRAP Eyewear, Andrew Swenson Design, and Drippin Wet.

Aprilia HSBK Racing
Aprilia USA has officially partnered with HSBK Racing to lead the MotoAmerica program and to provide racing development services for privateers competing on Aprilia RSV4 machines. For more information on the team, updates after testing sessions, sponsor spotlights and race recaps, follow HSBK Racing on Facebook. https://www.facebook.com/HSBKRACING/
Houston Superbikes
Established in 2005, Houston Superbikes caters to motorcycle enthusiasts with its diverse line of high performance bikes, parts and apparel. Houston Superbikes is proud to offer their own line of carbon fiber and billet accessories for racing and street applications. Offering dyno tuning, engine building services and suspension setup, they are an industry leader in building race machines. For more information regarding Houston Superbikes, or to find out what they can do for you, please visit www.houstonsuperbikes.com